Signature Facial with Dermaplane $120.00
Estimated 60 Minutes Treatment Time
Dermaplaning is a minimally invasive cosmetic procedure for your skin. Dermaplaning can help reduce the appearance of acne scars or other skin imperfections by revealing newer, undamaged skin. This procedure will also remove vellus hair, or peach fuzz hair from the face and neck.
This service includes an aftercare kit ($25 Value) including two samples of Lira Clinical Solar Shield 30 SPF, Dermaplane Pro SPF Lip Balm, and a Deluxe Sample of Lira Clinical's Pro Lite Serum.
Dermaplane treatments last around 4 weeks, and this procedure only takes around 60 minutes of treatment time.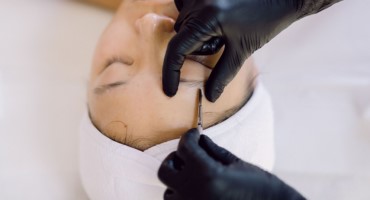 Why We Love It
Dermaplaning planes away vellus hair and up to 50 Microns of dead skin.
You see immediate results with just one treatment, with a series of three treatments there is a noticeable difference in texture *results vary depending on skin condition
This non-evasive treatment has no lengthy recovery time
This treatment minimizes other textural irregularities such as keratosis pilaris
This treatment stimulates blood flow and collagen production, with improved circulation this creates a natural glow effect to the skin
Benefits
There are many benefits to this service including a deep medical grade exfoliation, reduction of acne scarring, smoother skin for makeup application, skin care products will have a deeper penetration and skin rejuvenation with stimulated collagen production.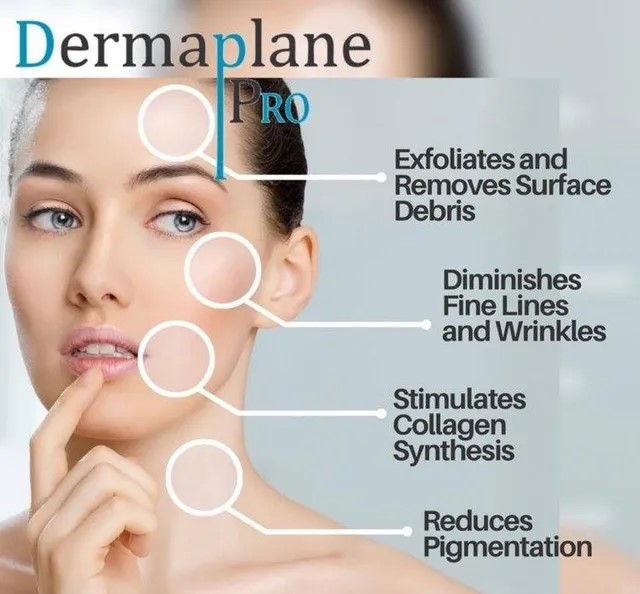 This Treatment Pairs Well With
Enzyme Peel
Utilizing Hale & Hush's Enzyme treatment along with a Dermaplane Pro treatment is a powerhouse against lusterless and dull skin. It optimizes the skin's complexion on the surface and at the cellular level using a blend of botanical exfoliating enzymes and refinement assistants that work together to rejuvenate and repair tone and texture while brightening and clarifying the skin (pH 5.6). This treatment assists the products and serums to deeply penetrate into the skin. The combination of Incredible Enzymes with a Dermaplane Pro treatment will brighten, tighten and revitalize the skin. You can pair this treatment with an Enzyme Peel for only $20.00
Botanical Refresh Peel
Utilizing Lira Clinical's curated blend of ascorbic acid (vitamin C), mandelic acid, salicylic acid, orange plant stem cells, bearberry extracts, and Greek mastiha gives intense lightening, tightening, and hydrating benefits.
Instantly brighter, smoother and more even texture. This treatment minimizes fine lines and wrinkles, mild sun damage, minor acne scarring, pigmentation and/or dry flaking skin.
You can pair this treatment with a Botanical Refresh Peel for only $20.00.
Contraindications:
Use of Accutane within 12 months of service
Use of skin thinning drugs such as long-term use of corticosteroids
Eczema, Rosacea or Psoriasis Activity
Dermatitis
Malignant Skin Tumors
Open Lesions, Active Cystic Acne
Active Lupus Flare / Lupus
Active Herpes Infection
Sunburn
Keratoses
Clients with Compromised Skin Barriers
Contraindications That Could Restrict Service
Terminal Hair is different than Vellus Hair. You may need to have facial waxing done prior to service, or have the hair plucked before service. Vellus Hairs is thin, barely noticeable hairs or peach fuzz, Terminal Hair are much coarser in nature and should not be dermaplaned.
A physician's release may be required if you are pregnant, nursing, taking chemotherapy medications, have a severe auto-immune disease or health condition
Post Care
For 8 hours, please do not wear makeup
For 72 hours avoid any heat treatments such as saunas, infrared saunas, hot tubs, and exercise.
For 72 hours avoid direct sun exposure. Your kit also includes two deluxe samples of Solar Shield 30 SPF and a Dermaplane Pro SPF Lip Balm to protect against UVA/UVB rays as your skin is deeply exfoliated and will be susceptible to sun damage. You should use SPF for 2 weeks after treatment.
It is during the first 48-72 hours after the treatment that you should take this ideal time to focus on high quality serums, moisturizers and other elements of your home skincare routine. Your home care kit includes a deluxe sample of Lira Clinical Pro Lite Serum which contains a natural melanin suppressant which fights hyperpigmentation while other ingredients in this high quality serum assist with antioxidant and anti-inflammatory benefits.
For 7 days avoid exfoliants and scrubs on the treatment area
For 7 days avoid chlorine (found in pools)
For 7 days avoid waxing or sugaring on the treatment area
Sensitive Skin
For some clients, the protocol for Dermaplane Pro may be too aggressive. During your assessment and intake your provider may decide to modify your treatment with the sensitive skin protocol; HH Polish which provides similar results.
We encourage you to space out your Dermaplane Facial appointments from every 4 weeks to every 6 weeks for this.