Botanical Resurface Peel $90.00
You can schedule this peel throughout the year
Contraindications:
History of Allergic Reaction To Peeling Agent
Those Who Are Pregnant Or Breastfeeding
Cuts, Abrasions, Broken Skin or Swelling
Recent Sunburn
Those With Compromised Skin Barriers, Or Active Skin Conditions
Use of Acne Medications In The Last 3 Months, Isotretinoin / Accutane in 12 months
Post Care
For 24 Hours Do Not Wear Makeup
For 24-72 Hours Avoid Heat Treatments Such As Saunas, Infrared Saunas, Hot Tubs
For 7 Days Avoid Pools and Chlorine
For 7 Days, Use Only A Gentle Cleanser And Follow All Post Care Instructions
For 7 Days, Avoid Direct Sunlight, Always Wear SPF
For 7 Days, Do Not Use Products Vitamin A (retinals and retinols), enzyme masks or scrub/polishing products
For 7 Days, Do Not Wax Or Sugar On The Treatment Area
For 14 Days, Avoid Facial Treatments
What Do I Need To Do Before My Peel?
At least two weeks before your peel, you must condition your skin with approved products prior to treatment. It is essential that you complete this for ideal results.
What Ingredients Are In This Peel?
This BHA peel contains a designer blend of Blackberry, Mango, Willowbark, Salicylic Acid, Retinol, Lime Pulp, and Passionfruit.
What Can I Expect During Peel?
Clients will experience a mild to moderate tingling and warm sensation within the skin with this peel.
When Will I Notice Results From My Peel?
Results are seen instantly after your treatment is completed and you will notice your skin will have a more healthy hydrated complexion. For more complex skin concerns, a series of 3 peels is recommended for treatment. Series of peels is not necessarily the same type of peel and can be customized to meet all of your skin care goals.
Is There Any Downtime After The Treatment?
Clients can be flushed or slightly pink during treatment however by the time the treatment is finished you can expect to
What Kind Of Post Treatment Home Care Is Needed?
Post treatment home care is essential in order to accelerate and enhance the healing phase.
Lira Clinical Post Treatment Kit
You are required to purchase a post treatment kit with your peel to ensure proper healing.
BIO Enzyme Cleanser
MYSTIQ iLuminating Polisher
BIO Hydra C Serum
BIO Lift Crème
SPF Solar Shield 30 Oil Free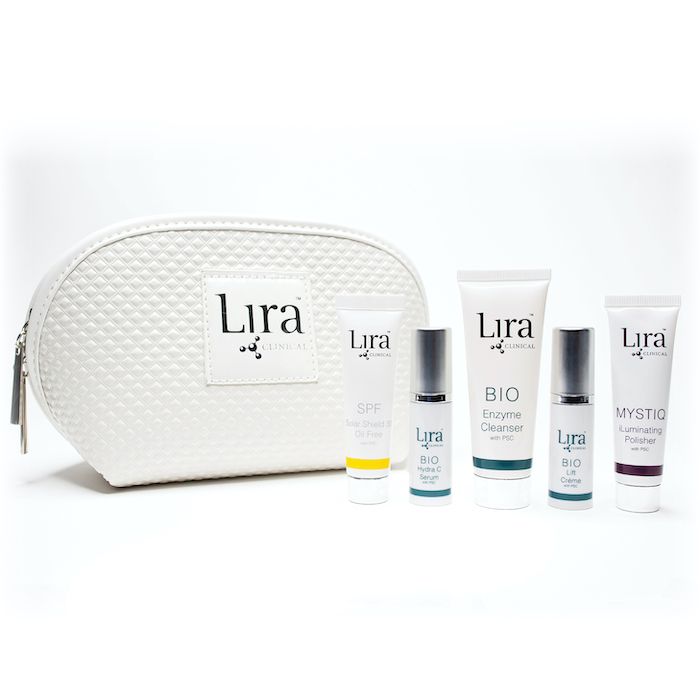 Conterindications