The Ultimate Beauty Timeline For Brides
6 to 12 Months Before Wedding Day
If planning on losing weight or toning up; make an appointment with your physician and speak about nutrition and diet as well as a workout regimen.
Then make an appointment to see a dermatologist- Have your dermatologist help you plan a skin care regimen that's right for you. Most skin issues brides worry about are hyperpigmentation and texture. Dermatologists can come up with a regiment to help with your concerns and you can follow up with an appointment with your esthetician for facials and extractions. Be specific with your concerns which could include acne, hyperpigmentation, lentigines (sun spots), fine lines, redness or dehydrated areas of the skin, toning and tightening skin, or just overall skin improvement. Some dermatologists recommend getting a facial done every month before the wedding especially if you have oily, acne-prone skin with breakouts, blackheads or clogged pores.
Book a brow grooming appointment and skin care consultation with a licensed esthetician. He or she will be able to help you determine the correct brow shape for your eye shape that is most pleasing for your facial features. A great brow can not only help you look well groomed, but it can also brighten the eye area and frame the face in the most pleasing way.
Its during this time you can speak to your licensed esthetician about brow tinting, lash tinting, learn more about eyelash extensions and facials. Make sure your esthetician is aware of any medications like retinoids, antibiotics, salicylic or azelaic acids or dapsone based medications you take as directed by your dermatologists as some medications will affect services.
Schedule your hair and makeup consultations. If you already have your dress and veil then take pictures of them to show your stylist and makeup artist. If not, bring images of your inspirations. You can never have enough references as this is the best way to show your stylist and makeup artist on how you envisions the way you want to look for your big day.
Start to fine tune your final cut and color for your big day with your hair stylist.
5 Months Before Wedding Day
Book all of your appointments:
Hair appointments including trims and color touch-ups every 8 weeks, a final trial three months before and styling the day of wedding. While you're starting your color touch-up's ask your stylist if hair masks are right for you and what kind she or he suggests for your hair type. Do you need a moisturizing hair mask fork dry, brittle hair? Or maybe a clarifying mask for oily prone hair?
Set makeup appointments including trial for one month before your big day
Esthetician appointments including monthly brow shaping appointments and final appointment 3 days before the big day for brow shape and tint
3 Months Before Wedding Day
Book your nail care appointments including your pedicures to get your nail strength and health to the optimum. Keep getting them regularly done every 2-3 weeks. Do not get any treatments done that thin the nail plates such as gels and acrylics.
Book a facial tailored to your skin type with your esthetician who will be familiar with your skin from your consultation and brow appointments. Make an appointment for the last facial 2 weeks before your big day so there is time for any extractions or redness to dissipate.
Get your hair trial done- wear for at least 6 hours and make sure it holds. It's during this time that you can decide if any changes need to be made and if so, you should book a second hair trial to readjust your style no less than 2 months before the big day. Continue with hair trims and color touch-ups for healthy hair.
Continue to groom and get your brows into the shape you desire. If your brow hairs are not growing fast enough, ask your esthetician about growth serums and conditioners. If you feel your lashes are sparse and are opting out from lash extensions, you can also take this time to talk about lash serums.
2 Months Before Wedding Day
If you're planning on getting a spray tan for your big day, now would be the time to have your first spray tan as a trial run. Speak with your spray tan technician to make sure your happy with the color. Book an spray tan appointment 3 days and no less than 2 days before the big day.
Continue with great nail care as you continue to strengthen your nails and bring them to good health. Avoid nail polish colors that stain the nail beds and stay away from acrylics and gels now to keep your nail beds strong.
1 Month Before Wedding Day
If you are having lash extensions put in, have this done a few days before the makeup trial so your makeup artist can see the shape of the lash design.
Now it's time for the final makeup trial!
Continue with brow appointments, nail appointments and hair appointments.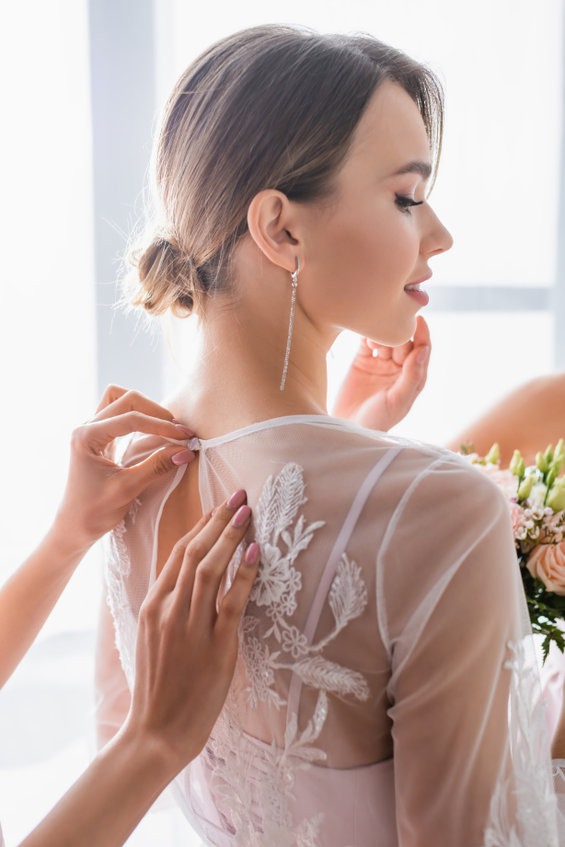 2 Weeks Before Wedding Day
Get your final hair time and color touch-up's done
Get your last facial done, keeping in mind that if you need extractions done, do this at least 15 days before to give your skin time to heal from any redness and inflammation. Ask your esthetician if a hydration facial with dermaplane is right for you, makeup goes on smoother when the skin is plumped and hydrated.
1 Week Before Wedding Day
If your having lash extensions done, have your final lash extension fill in done this week so your lash extensions are thick and full
3 Days Before Wedding Day
Go in for your final brow appointment and tint as well as any other area's that need to be waxed
Now is the time for some pampering as well as to smooth out skin. Book a body scrub and massage to sooth sore muscles, smooth and soften your skin
Go in for your spray tan appointment, only rinse off your spray tan 8 hours after your appointment, making sure your have completed your body scrub appointment or any waxing before your spray tan appointment
Don't forget your Groom! Have him get a brow cleanup and basic nail trim. Avalon offers a paraffin alternative Aloe and Green Tea Hand Treatment to assist with dry, flaky skin on the hands which will help when it comes to the close up images of the exchanging of the rings!
2 Days Before Wedding Day
Go in for your nail and pedicure appointment. Do not let your nail technician use any scrubs on your hands, arms, legs or feet! It will ruin your spray tan. Long soak times will also ruin a spray tan, so be careful
1 Day Before Wedding Day
Shampoo and style your hair for rehearsal dinner keeping light on the conditioner. Check with your stylist beforehand on if you need to wash and dry your hair again after the rehearsal dinner or if you can wash your hair the day of the wedding, some styles require day old hair.
Day of Wedding !
Plan on your hair being done at least three to four hours before the ceremony making sure that you are wearing a robe or button down shirt. Have your stylist prep and set your hair and then she can begin working on anyone else in the wedding party.
Three hours before, have your makeup artist start your makeup
Two hours before, have your stylist finish your hair, while your makeup artist works on the rest of the bridal party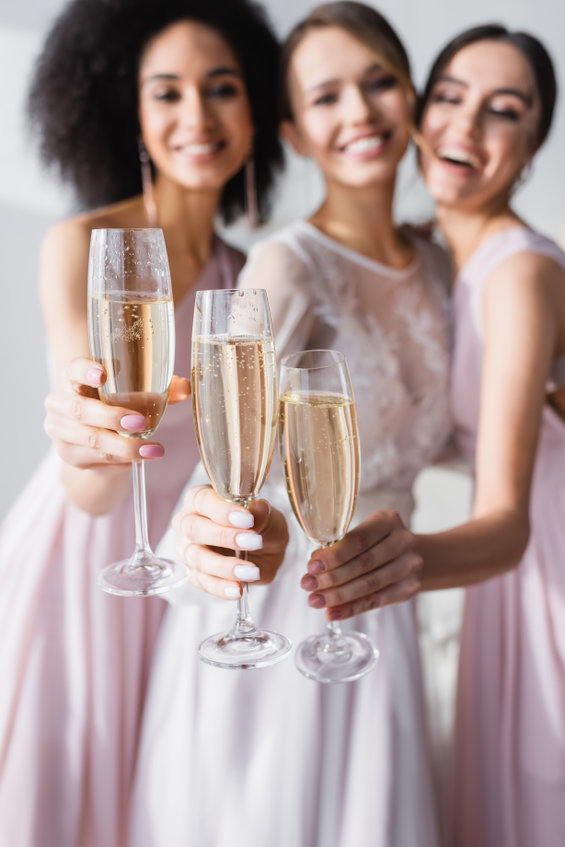 One hour before, attach your veil or head piece if you are wearing one
30 minutes before, your makeup artists will be touching your makeup and applying lipstick to the entire bridal party so lips look their best, this is most likely the time when your photographer will be taking those iconic "getting ready" photos, as it is not very appealing to have professional photos taken to share with family and friends if your skin tone is not smoothed out with at least foundation and powder
Your ready to walk down the isle!